Came all the way down to Kansas to visit a TransAm buddy. He popped a 60 mile day trip on me and we went out with two of his freinds. 60 turned into 72 pretty serious miles in 100 degree weather. I commented that it was impressive Bill has any friends when he subjects them to grueling rides. We all held up pretty well though.
Bill, me, Kenny, Mary Jo and SamO the dog.
Look out Kenny. That combine is a mighty wide load!
Cold drinks. In the sun it was probably over 100.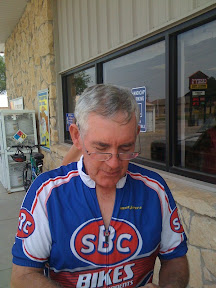 A tractor was slowly and painfully overtaking us. It struggled because its passing speed required almost 2 minutes to pass us and in that time a car would often appear from the other direction.
Nice day, nice people. Kansas.
- Posted using BlogPress from my iPhone