Even though this is is an Adventure cycling training, since it focuses on leadership there is very little cycling involved, of course.
We did go out for a quick jaunt in late afternoon. The purpose was to model what a group shopping trip might be like. Not quite an accurate picture, since there are 24 of us and a normal tour usually maxes out at around 12. In addition, since there is a fridge and we don't have to carry the extra, we shopped for the rest of the week as well and sent it all back to camp in a car. Normally there would be just 2 people in the store, but we all went in, because all are responsible for the cooking.
All ranges of bikes were represented, from folders, to old school to mountain and carbon fibre racing.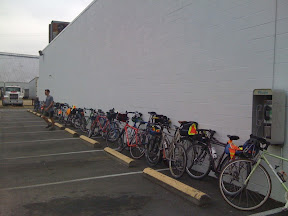 - Posted using BlogPress from my iPhone