Like many cities, Buffalo has a number of reuse organizations and a few which concentrate on alternative forms of transportation; alternatives to driving, that is.
Green Options is the main one of which I am aware and it includes kind of a sub organization called Buffalo Blue Bikes. BBB's function is to take donated bikes and place them in densely populated areas where members can borrow them.
Today was a beer centered fundraiser. I volunteered to pour beer, which is maybe like putting me in charge of the M&Ms. But I don't really drink much; it just makes me less efficient. Here is a picture of the bike valet parking, which was increasingly popular as the day progressed. Yummy beer: Flying Bison.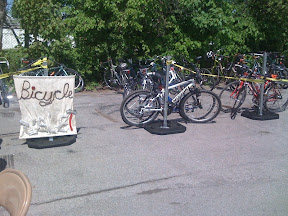 Here is an image from a nearby commercial area called Elmwood Village. Note the mostly full bike racks.
- Posted using BlogPress from my iPhone