As an asside, it should be mentioned that in order to keep myself close to the Amtrak two bag limit and also for me to be able to carry all my things in one shot, I elected to go without a sleeping bag. Looking ahead at the weather report, the lowest nightime temp was predicted to be 55. This turned out to be unwise. My bag is down and quite small, takes up only about 4
Times the space of the liner I did bring and 55 is pretty cool when lying on the ground. I repeat that last night I wore almost every stitch of clothing I had brought, including three short sleeved tops, smartwool bottoms, pants and rain pants, two pairs socks and my Gore jacket. Still cold. Still cold. Did excercises. Only helped for 30 min.
Lesson? It would be better to leave behind the second set of cycling clothes or bring an empty bag to bungie on the rack for food or whatever.
Despite this Holley was one of the most pleasant sleeping spots one could ask for.
We returned to town for breakfast. So pleasant.
The towpath is well kept, except for a small patch near Medina, which goes over a deep rivine and creek far below.
We watched them raise a bridge to allow a canal boat to pass. That boat and several others are obviously charters and looked pretty cool.
We got snacks and a bag lunch in Medina and parted from the path near Gasport.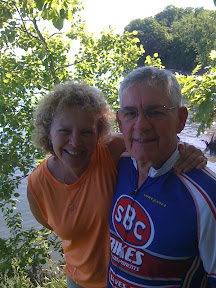 This is Bill and Linda. People asked if Linda and I were sisters. Curly hair. I think Bill is very lucky to travel with two such lovely ladies.
We traveled up towards Lake Ontario and Olcott, always conscious of the chimney from the Somerset power plant. It reminded me of the prarie castles (grain elevators) of Kansas. You could see them for 20 miles, but they never got closer.
Nearing Olcott we found an ice cream stand. Having overshot our mandatory 30 miles, we gratiously accepted its siren's call.
We arrived at Linda's cottage and got to meet her parents before jumping in a car to drive back to Syracuse to retrieve Linda's car.
A grocery store provided us with dinnerous stuff so we could pretty much collapse on our return.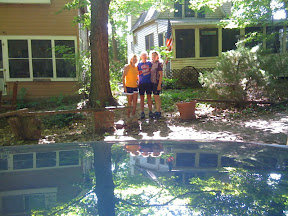 - Posted using BlogPress from my iPhone