A lovely start to the day, with moderate fog over Lake Ontario looking out from FairHaven State Park. It rapidly cleared while we breakfasted in town. There we met a couple from Montreal a few days into an extensive tour. They are going to be doing a Lonely Planet Guide to inexpensive bicycle touring.
The cafe had wireless, but some fool IT person told the owner that the name of the wireless network and password could not be changed. As a result, the network was generically named C390 and the password was about 25 characters long, including 15 zeros at the end. If she had had the password to get into the router, I would have fixed it for her.
We toodled up to Sodus Bay, ate local cherries and strawberry rhubarb pie
and got caught in a warm thundershower.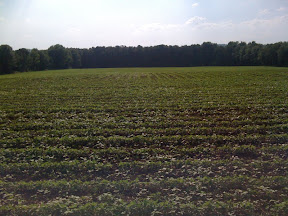 Unable to find a decent lunch stop in Williamstown, we grabbed sandwiches from a grocery. Bill picked up wine and local cheese and we got crackers for the evening.
Hopping on the Erie Canal towpath at Palmyra we headed towards Macedon to camp. Passing by the hiker/ biker campsite at lock 30, we tried out the marina, but there was no one in attendance. The bridge to it was barricaded, but I took off my two panniers and lifted the bike over the barricades. Instead of the marina, there was a huge set of ballfields and after a little searching and help from some soccer players, I located him and got permission for us to camp out. No showers, but clean flush toilets. The caretaker, Lorb Miller, managed to locate the person who locks up and the toilets were left open for us. So sweet.
Washing, wine and cheese and bed. Frogs serenaded us.
- Posted using BlogPress from my iPhone