We spent the Fourth in Pitt watching fireworks from up on high.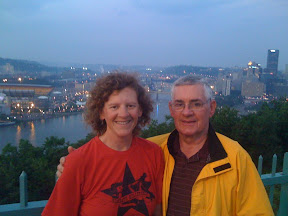 I took Bill down to Pittsburgh, PA to start his trek down the GAP and C&O to return to his car near DC. Riding 15 miles from Versailles (near Pitt) brought back memories of the first time I did this trail. The GAP part at least is quite smooth and easy. We were doing 16.5 on its limestone without much trouble.
Though more of the path between Pitt and McKeesport has been completed, it is still not quite there. That group is sure working hard, though.
- Posted using BlogPress from my iPhone