Some observations about cycling in Ireland: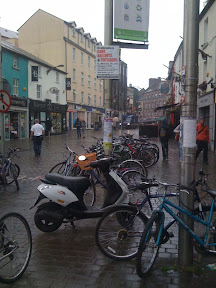 The streets (all of them, urban and country lanes) are extremely narrow with little or no shoulder (except the highways). In the country the visibility is often very limited by twisting roads and high hedges or stone fences. We are talking about sometimes 30 feet.

Country speeds are quite high by US standards. 60 mph is the norm on these narrow roads

drivers yield to cyclists every time, often to their own disadvantage or the curse of other motorists

cyclists were seen under all circumstances, from narrow urban roads with trucks and buses to country lanes seemingly in the middle of nowhere, as well as on highways, were there were broad shoulders

There were many touring and casual cyclists and hoards of commuters

people obviously use their bicycles for transport every day, as most were outfitted with pannier/s

less than half wear helmets and those wearing helmets were often on racing bikes

most riders were adults

riders were never observed being "squeezed" by passing cars

some communities have identified cycling "routes"; Roundstone, near Galway seemed to have quite activily pursued the routes and been given extensive feedback by cyclists
Though cycling here is not for the faint of heart, I would likely return to bike Ireland, but would probably plunk myself (via public transport) down in a town away from the hub-bub of the few urban areas. If I get the chance, I will look into and report how bike friendly the town to town public transportation is, for example if you flew into Dublin, how easy would it be to get a conventional bike to Roundstone? Cycling in Dublin alone would be a fabulous way to get around (again, not for the faint of heart).
As for communications and routing, there are information centers in the major towns and cities. AAA was useless to me when I contacted them before leaving. t-mobile (phone carrier- US) was excellent, per usual. They have poor service coverage in rural areas, but their customer service exceeds all. They told me to remove the sim card on our smart phones, since roaming is impossibly expensive in foreign lands. We asked them for an unlock code for one smart phone, a MyTouch and they gave us this promptly. We bought a foreign sim card at an airport phone store in Ireland and the man there helped us through the install and activation, though we needed to play around with the settings ourselves (there are sooooo many models). When the phone later locked itself, I used wi-fi and Skype Out to call t-mobile and they emailed us directions to unlock it, even though it was the foreign sim card which locked up. Their info and the info on the sim card ultimately helped us unlock that sim card. Kudos.
The GPS unit we paid extra for with the car is useless. Possibly user error, it is really not smart or intuitive. The phone GPS (50 MB per day included in the phone sim) is quite good, especially in urban areas, and the maps are fine in the rural, on the occasions when the data fails. Map most often used (surprise, surprise) is a spiral bound "official" atlas.
Wireless- we are staying exclusively in B&B's, since a good deal, including the rental car, was available. The wireless in these B&B's varies from poor to great, with most of it so far at the poor end. At one B&B, I was forced to stay in our kid's room, next to the wall, to get a signal good enough to hold.
Finally, Skype Out is a worthwhile investment. I think I pay $25 per year for this. It allows my computer or iPhone to use wireless to dial US numbers without additional cost. I called t-mobile and could call phones in the US at any time without any fees, since it all goes across the internet. People can't call me with Skype Out, however.
- Posted using BlogPress from my iPhone